If you're looking for an extra boost of daily focus, then this super-powered super powder is for you. Proudly made in the USA.

The Good Stuff™ Focus is a step up from our original blend:
Stimulates cognitive function and mental clarity

Slow-release energy and mood enhancer

Delicious mocha flavor you have to try to believe

Unique formula, only available at For Wellness
60 Day Money Back Guarantee
Ingredients

Bovine Collagen Peptides • Medium Chain Triglyceride Powder (Coconut MCT Oil, Gum Acacia, Silicon Dioxide) • Natural Flavors • Organic Cinnamon Bark Powder (Cinnamomum cassia) • L-Theanine • Himalayan Pink Salt • Low-fat Cocoa Extract Powder ((Theobroma Cacao) • Theobromine • Tapioca Starch • Natural Vanilla Flavor • Ginger Root (Zingiber officinale) • Allspice Fruit (Pimenta officinalis) • Cinnamon Bark (Cinnamomum cassia • Cinnamomum burmannii)) • Stevia Leaf Extract
Serving Size

One level scoop in an 8oz black coffee.
View full details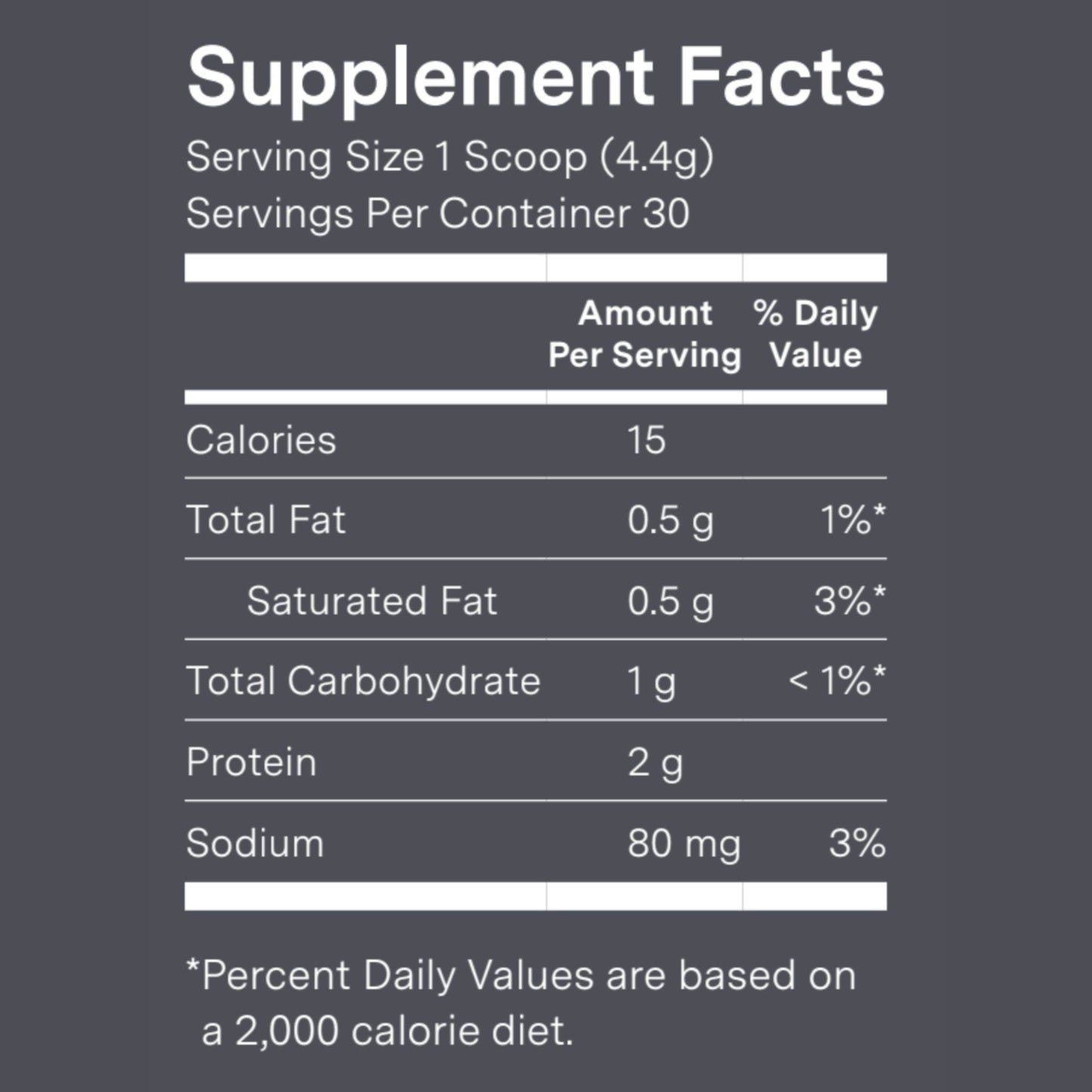 Premium functional ingredients
Locally sourced, The Good Stuff™ Focus is proudly made in the USA.
Theobromine

A cocoa extract which can boost focus and learning, cardiovascular function, and your overall disposition. It's also a great source of slow-release energy without the frenetic side effects!

L-Theanine

A naturally occurring amino acid found in tea that promotes relaxation. It pairs well with caffeine and reduces the jitters.

Organic Cinnamon

Full of antioxidants to help your body handle free radicals and can lower your risk of disease. Rich in manganese to helps repair bones.

Collagen

Accounts for 30% of your body's protein. Provides structure, support, or strength to your skin, bones, muscles, and connective tissues.

Himalayan Salt

Pairs perfectly with coffee to reduce the acidity and smooth out flavor. Full of minerals to improve skin and reduce muscle cramping.

C8-MCT

A healthy fat found in coconut oil that converts into ketones which are known to enhance ketosis, boost energy, and burn fat.
Simple. Convenient. Effective.
The Good Stuff™ Focus is a performance coffee supplement that will supercharge the natural benefits of your morning brew, promote focus, and reduce the caffeine jitters.
One scoop will infuse your coffee with healthy ingredients
Ditch the bad stuff like sugar, dairy, and artificial creamers
Fights inflammation and supports skin and joint health
Makes your coffee taste great
Benefits of daily use
A single scoop in your coffee provides your mind and body with cognitive and physical support. Our patented cocoa extract takes all the best parts of chocolate - taste, aroma, and health benefits - without the bad stuff.
MENTAL CLARITY

Cocoa extra gives The Good Stuff Focus the edge in supporting mental acuity, concentration, mood and outlook.*

ENHANCED FOCUS

L-Theanine is an amino acid derived from green tea. It smooths out the caffeine jitters and reduces stress by boosting calming brain chemicals.*

INCREASED ENERGY

MCT is a healthy fat found in coconut oil. C8 is the most ketogenic MCT, meaning you get an energy boost that helps you feel full, boosts focus, and gives mental clarity.*

REDUCES INFLAMMATION

Ceylon cinnamon contains anti-inflammatory, antioxidant, and antimicrobial effects, all of which greatly support your immune health.*

PROMOTES SKIN HEALTH

Collagen is one of the main building blocks for your bones, skin, hair and muscles. It can improve joint mobility and reduce inflammation while protecting your gut, skin and hair.*

BOOSTS HYDRATION

In addition to reducing the natural acidity in coffee, Himalayan Pink Salt can help your body stay hydrated by maintaining a proper fluid balance.*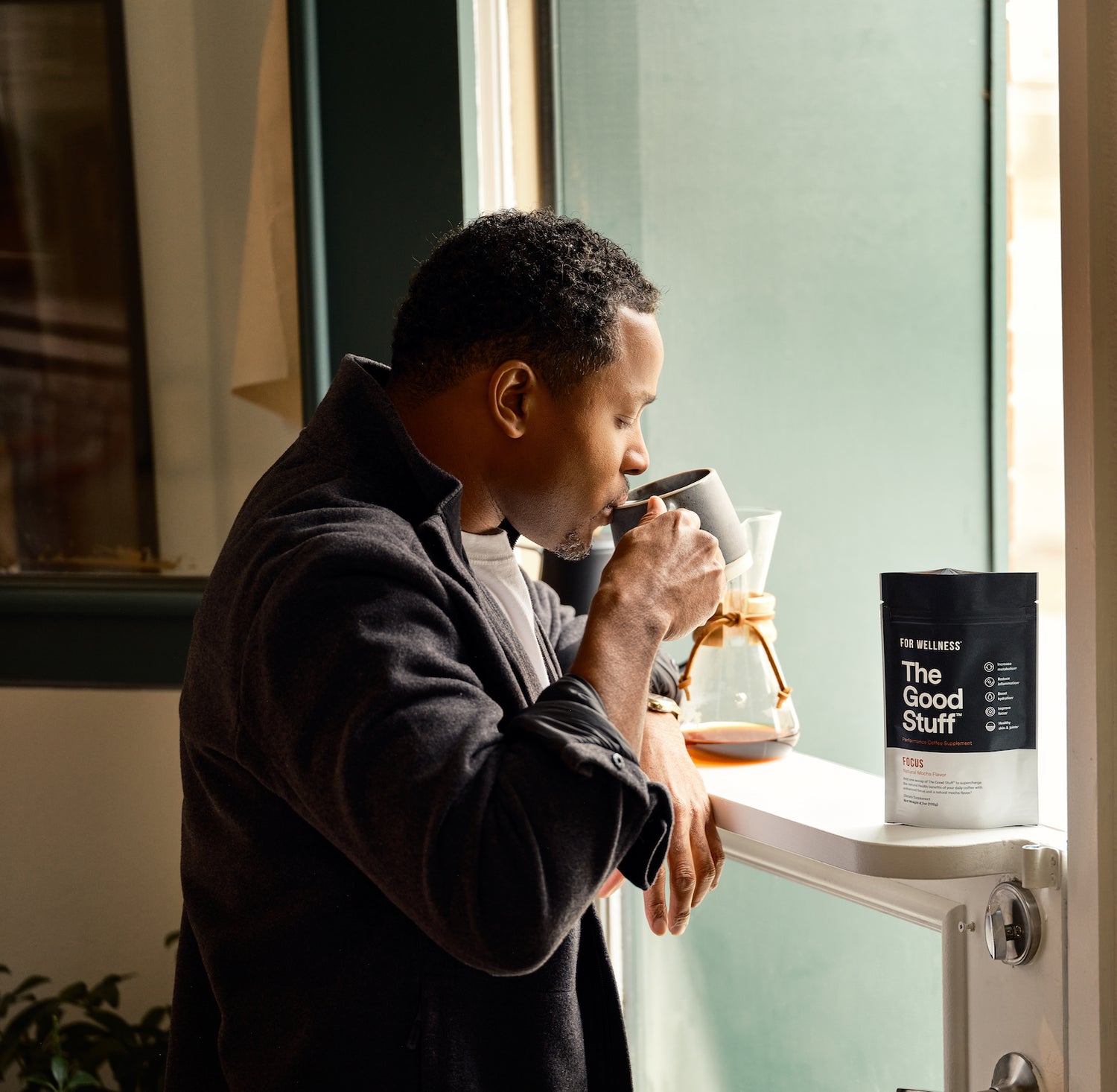 Right, but how does it taste?
In one word... DELICIOUS!
The Good Stuff™ Focus will make your coffee taste like a silky smooth mocha.
Subtle chocolate and cinnamon combine perfectly with your coffee to activate your mind and taste buds!
One of the worst parts of improving our health is that usually means swapping something tasty for something tasteless.
With The Good Stuff™ Focus, you no longer have to make that sacrifice.
None of the bad stuff
No artificial colors, flavors, or sweeteners. Just high-quality ingredients. We made these products for ourselves and the athletes we work with. Compromise is not an option.
Gluten Free

Non-Dairy
"When I created The Good Stuff™ Focus, I wanted to take all the benefits of The Good Stuff™ and build on that to specifically improve focus. The cocoa extract we've added to this formula truly takes my productivity to the next level."

Dave Phillips

Co-founder, For Wellness

"The cocoa extract used in The Good Stuff™ Focus has many health benefits due to its high antioxidant content. Including cocoa in your diet can also improve blood flow providing cardiovascular and cognitive benefits."

Dr Siobhan Hanlon

Naturopathic Doctor & For Wellness Advisor

"The formula Dave has created for The Good Stuff™ Focus is entirely unique, and the true meaning of simple but effective. It gives your day-to-day productivity a noticeable boost in focus, plus it's absolutely delicious!"

Greg Banbury

CEO, For Wellness
Your questions answered
What are the benefits of The Good Stuff Focus?

The Good Stuff Focus contains all the existing benefits of The Good Stuff, with an extra ingredient to support focus, memory, learning, energy, and mood.
How does it compare to the original Good Stuff?

The Good Stuff Focus is made with the same ingredients as The Good Stuff, plus a premium functional cocoa extract that helps support improved focus, memory, learning, energy, and mood.
How does The Good Stuff Focus taste?

The Good Stuff Focus tastes like mocha, thanks to the patented cocoa extract we use.
How do I make a coffee with The Good Stuff?

Brew your favorite coffee and then mix in a scoop or packet of The Good Stuff. It will need a little effort to mix in, but nothing worth having is ever easy!
What if I don't like coffee?

No problem! The Good Stuff is just as delicious in tea, smoothies or on your oats. Get creative or use one of our recipes here.
Can I have too much of The Good Stuff?

We would recommend no more than two scoops of The Good Stuff over a four-hour period unless you are dealing with anxiety, as the L-theanine does promote relaxation.

If you have any health concerns, we always recommend speaking to your health practitioner.
Can I drink The Good Stuff whilst pregnant?

We suggest consulting with your doctor or physician before making any changes to your diet while pregnant.
Is there sugar in The Good Stuff?

Nope. If you like a little sweetness in your coffee, we recommend adding a teaspoon of Manuka honey.
Where is The Good Stuff made?

The Good Stuff is made using sustainable producers of raw ingredients and is produced in an FDA-compliant facility in the USA.
I'm highly suspicious of subscriptions... why should I subscribe?

The Good Stuff is designed to form part of your daily routine so a convenient monthly subscription is the best way to stick to your new healthy habit.

Your subscription is easy to manage (skip/cancel) online; no need to contact us (but you can... we're very friendly!)
Subscribe and get a free starter kit
If you subscribe to The Good Stuff™ FOCUS you'll get a free starter kit worth $30.
Go for the Pouch and you'll get a ceramic canister and a premium metal scoop. If you choose Travel Packs you'll get a SIC 12oz Tumbler.
Plus, you'll save 25% today, and every month you stay a subscriber.