Our Recovery Gummies™ are the perfect pre-workout boost, will help reduce muscle soreness, and are a rapid source of energy when you're on the go.
Supports muscle recovery and combats soreness

Full of antioxidants and replenishes electrolytes

Boosts energy and focus with all-natural ingredients

Tastes incredible with juicy cherry flavors
Ingredients

Water • Organic Cane Sugar • Glucose Syrup (from Tapioca) • Organic Pear Juice Concentrate • Tapioca • Maltodextrin • VitaCherry® Sport • Citric Acid • Pectin • Natural Flavorings • Potassium Citrate • Sodium Citrate • Natural Colors (From Fruits and Vegetables)
Serving Size

3 Gummies (4g). 10 servings per packet (30 gummies).
View full details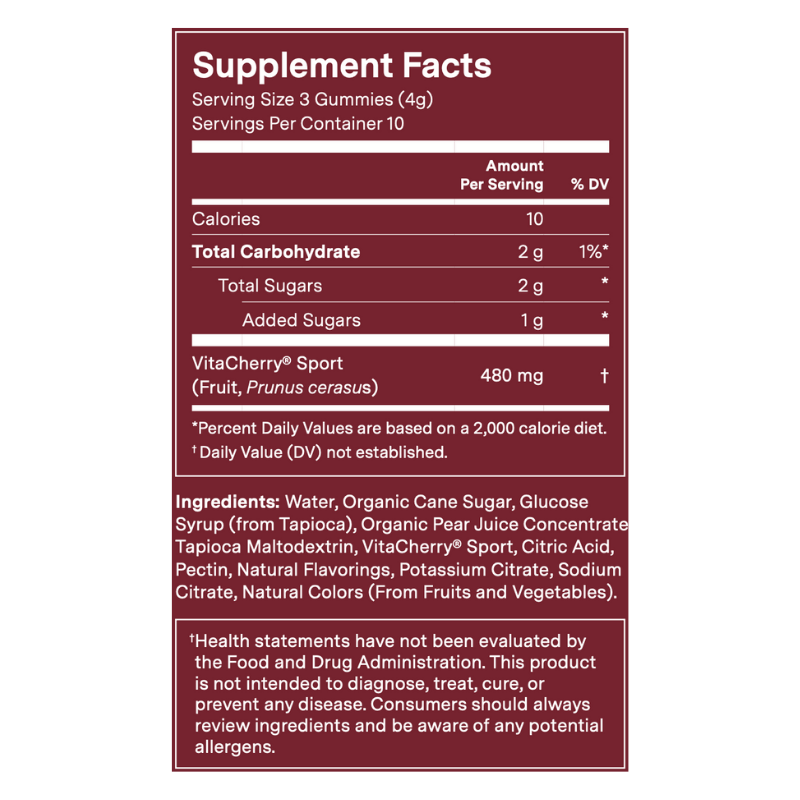 Performance packed ingredients
We've kept this ingredient list short and sweet... literally! All that's included is all-natural goodness, and nothing artificial.
VitaCherry® Sport

Derived from Montmorency tart cherries, VitaCherry® Sport is formulated to aid muscle recovery while helping to prevent soreness and strength loss after exercise.

Glucose

Enjoy a rapid boost of energy that invigorates. Glucose is the primary fuel source for the brain and is required by all cells in the body to produce energy.

Electrolytes

We use two key electrolytes for muscle support, potassium and sodium, to maintain fluid balance and nutrient absorption. Our gummies contain two times more potassium than sodium.
Benefits of daily use
Optimize your recovery. Maximize your potential. Take your fitness to the next level with Recovery Gummies. Perfect as a pre-workout boost, an antidote to muscle soreness, or for rapid energy when you're on the go.
FAST ENERGY

Glucose is the body's main form of energy. Use our Recovery Gummies to re-focus and re-energize when you start feeling drained.

ELECTROLYTE REPLACEMENT

Electrolytes are crucial for keeping you hydrated and regulating nerve and muscle function.

MUSCLE RECOVERY

Montmorency tart cherries can help to reduce loss of muscle strength and soreness while promoting muscle recovery.
Taste as good as they look
Our Recovery Gummies are made with a simple, all-natural ingredient list, but that doesn't mean there's any compromise on taste.

Thanks to the Montmorency tart cherry in our VitaCherry® Sport ingredient, our gummies are a delicious hibiscus cherry flavor.
None of the bad stuff
100% natural and vegan. No artificial colors, flavors, or sweeteners. We made these products for ourselves and the athletes we work with. Compromise is not an option.
100% Vegan

Gluten Free

Preservative Free

Non-GMO
Co-founder, Dave Phillips explains...
"Studies suggest antioxidant-rich tart cherry can decrease recovery time, soreness caused by muscle damage and inflammation caused by strenuous exercise."

Dr Siobhan Hanlon

Naturopathic Doctor & For Wellness Advisor

"I use the Recovery Gummies on and off the golf course. They give me a great energy boost, help keep the aches and pains at bay, and taste freakin' awesome."

Max Rottluff

Professional Golfer, Challenge Tour

"Everyone who tried the gummies pre-launch loved them. We hope all our customers enjoy the recovery benefits packed into each little delicious cube!"

Greg Banbury

CEO, For Wellness
Your questions answered
What are the benefits of Recovery Gummies?

Recovery Gummies help combat muscle soreness, support muscle recovery, replace electrolytes, promote focus, and combat inflammation.
When should I feel the effects of a serving of gummies?

Almost immediately! Glucose will enter your bloodstream as you are chewing and provide available energy for your body right away. You should not experience any specific "surge" or jitters - but simply feel your body returning to its optimal state and your mind able to focus a bit better.
What flavor are the Recovery Gummies?

Our Recovery Gummies are a juicy and delicious Hibiscus Cherry flavor.
Are the Recovery Gummies only for elite athletes?

Our Recovery Gummies are for everyone! The idea for Recovery Gummies came from our co-founders' experience with professional athletes needing a quick, easy way to get lots of functional support into their system easily. They soon realized plenty of people, like busy parents, people who work long hours on their feet, and travelers sitting in a single position for an extended period of time could all benefit from muscle and energy support. If you need an easy and delicious way to fuel and hydrate your body, this is it!
When should I use the Recovery Gummies?

Take 2-3 gummies as a mid-workout boost, post-workout to support recovery, or for a burst of energy throughout the day.
What is the max dosage of gummies?

The suggested serving size is three gummies. Depending on your exercise levels, metabolism, heat exposure, etc - you can take more. There are no adverse effects from taking more than the suggested serving. As with any food - balance the great taste with the caloric need to ensure you don't take in more calories than your body needs.
Is there any sugar in the gummies?

There is organic cane sugar and glucose, which is the primary source of fuel for your brain, and provides a quick dash of energy. The cane sugar is necessary for the gummy texture. Overall there is only 2g of sugar per serving.